Naval PR-20BE
Activ
e Antenna Power Supply

For use with Naval Active Antennas requiring 100 to 150 mA of power at +15 volts continuous. (Bias-T)

Input power connection block for
12 or 24 vdc, and 110 or 200 vac.
Quick Strapping Jumpers for 110 or 220 VAC input power (50/60Hz)
Dual outputs (splitter) or can be modified for single output at double power.
Low Power antenna current Fuse point (center fuse in photo) can be used to measure antenna current.
75 ohm but 50 ohm version available at extra cost (option)
Over current alarm (155 ma) Red LED
Power on green LED
Power cord Cable Gland
Water Resistant Outdoor Gasket Sealed and RF Shielded Housing
Frequency response 200KHz -1GHz
CE Mark, RoHS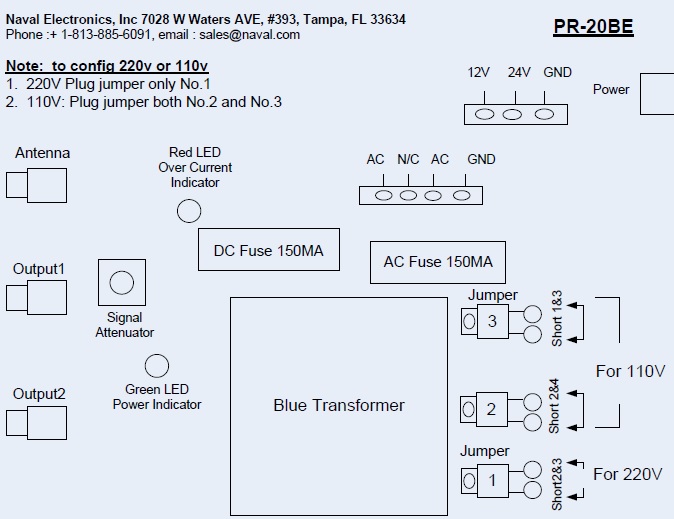 Marine TV and Radio Antennas - Marine Electronics
copyright © 1997-2016
email
sales@naval.com
Naval Electronics, Inc.
7028 West Waters Ave Suite 393,
Tampa, Florida
USA 33634
phone
(813) 885-6091
fax (813) 885-3601
Website monitor by Killersites.com