Naval Ground Isolated Passives for Marine Radio and TV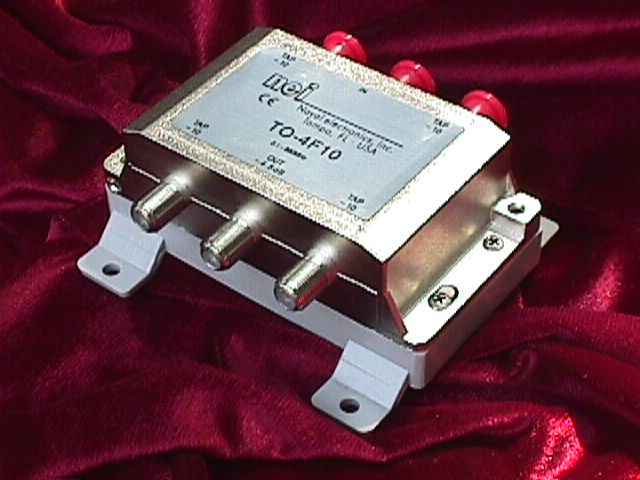 The TO-4F10 is a 4-way Ferrite Directional Coupler (Tap-Off) for Marine Radio -TV amd MATV use.
Its plated cast housing is isolated from ground to prevent problems caused by ground loops on a steel ship.
F connectors are integral to the casting to allow Cable connetors to be wrench torqued without damaging internal circuitry.
The metal case provides ample EMI isolation to meet IMO and CE mark requirements.
Tap isolation values are available from 10 db through 21 db to assist in balancing the ship's Radio and TV distribution system.
These specially made devices will pass AM//HF/SW radio signals whereas normal CATV passives block all signals below 5 MHz.
AM SW HF FM Radio Splitters and Directional Couplers (Tap Offs) Passives
2-way and single drop directional couplers and splitters/combiners are also available.
National Item Identification Numbers NIIN

Naval Splitters and Directional Couplers (Tap-off)

National Stock Numbers

| | | | | |
| --- | --- | --- | --- | --- |
| Cage Code | PICA | Part name | FSC | NIIN |
| 0GMC3 | GX | SP2F | 5985 | 013696880 |
| 0GMC3 | GX | SP4F | 5985 | 014377271 |
| 0GMC3 | GX | TO2F | 5985 | 013733206 |
| 0GMC3 | GX | TO4F | 5985 | 013730607 |
| 0GMC3 | GX | T02F-17 | 5985 | 014628016 |
| 0GMC3 | GX | T04F-17 | 5985 | 014612083 |

TR-75F 75 ohm terminating resistor "F" type PN 500.207 DUMMY LOAD,ELECTRIC NSN 5985-01-352-9585
Visa, MasterCard and PayPal Welcome


Naval Electronics, Inc.

7028 West Waters Ave Suite 393

Tampa, Florida USA 33634

phone (813) 885-6091 fax (813) 885-3601

e-mail

sales@naval.com



Website monitor by Killersites.com